Experience how we "live in harmony with nature" with an hour-packed tour!
Discover how sectors of Little Parrot Farm work together to practice sustainable agriculture and "compassion-in-action" towards soil, plants and living beings.
With the flower and harmony gardens, see our unique, foreign veggies. Learn about the busy bee pollinators and composters that help our plants and enrich our farm soil. Witness farmers harvesting to bring "farm-to-table" produce to the local community. Look at how microgreens are produced. Smell and touch farm materials used to make natural, home products such as honey soap and herb infused oil. Interact and meet with our animals from the piggies, rabbits and guinea pigs, to the roosters, Muscovy ducks and alpacas!
See and experience how Little Parrot Farm works together with Mother Nature to create sustainable, green cycles of life.
All ages are welcome! $10 per person. Children under the age of 2 are free. We kindly ask all children under 18 to be chaperoned by parents or guardians.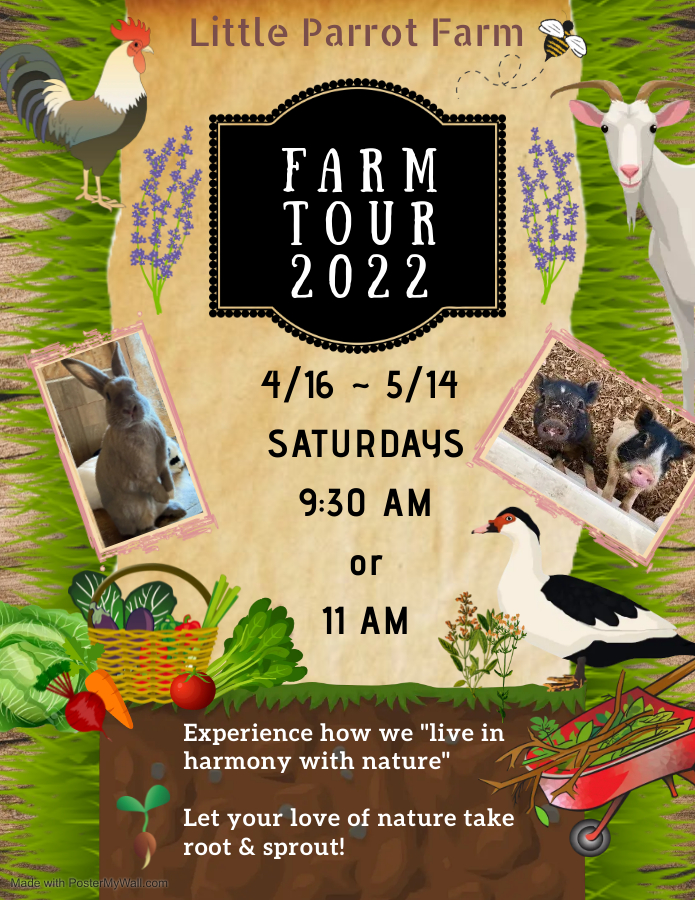 At Little Parrot Farm, nature is a learning lab to explore, open your mind and senses to how we work together with nature.
Our tours offer interactive and hands-on activities for children to understand how we practice "compassion-in-action" with organic agriculture and stewardship.
For more information on our Farm Discovery tour content, click here for our brochure and to make an appointment or plan your visit.
Need content more tailored for your school or program?
Our education program staff is happy to work with you to better align our content to suit lesson or curriculum needs.
Forward inquiries to: programs@littleparrotfarm.org