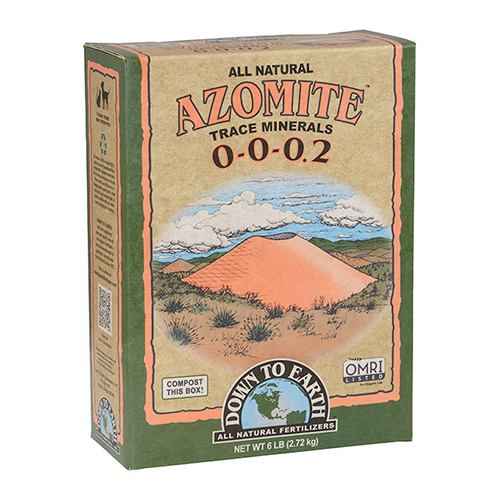 Azomite 0-0-0.2
AZOMITE can be described as a rhyolitic tuff breccia, which is a hard rock formation that formed from the dust of a volcano that erupted an estimated 30 million years ago. The deposit resulted from the volcanic ash merging with seawater to form a mineral composition completely unique to its location and circumstance.
AZOMITE is a uniquely natural material, mined in Central Utah, USA. For over seventy years, crop producers have used AZOMITE to support plant growth and vitality. AZOMITE requires no mixing. It is odorless, will not burn plants and will not restrict aeration or water penetration. AZOMITE is not manufactured or chemically prepared. It is 100% naturally derived and is completely free of additives, synthetics or fillers.
AZOMITE application could increase the levels of the essential mineral elements and rare earth elements in vine leaves resulting in much stronger and healthier vines and overall improved plant health.
General Use: Mix 2.5 tbsp. per gallon of water for lawns, gardens, trees and shrubs (will cover 40 sq. ft.)
Compost Tea: Mix 2 tbsp. per 5 gallons of compost tea
Potted plants: Mix 1 tsp. per 2″ pot diameter with potting soil before planting. For houseplants apply 1 tsp. per 2″ pot diameter 4 times each year thereafter.
Transplanting to the Earth: 2 – 3 tbsp. per 4-6″ planting hole
Amending soil: Use AZOMITE® at the rate of 1 lb. per 10 sq. ft. If in rows, mix with the seed or starter plant and apply at the rate of 1 lb. per 25 ft. of row. If bed is established, sprinkle around each plant. AZOMITE® should be applied with compost, humus, manures, or other fertilizers to provide additional levels of nitrogen, phosphorus, and potassium. AZOMITE® will not burn plants. For roses, apply 1/2 lb. to 1 lb. to the soil around each plant and gently work into the top few inches of soil.